Have you always wanted to take your dog hiking but aren't sure how to get started? Well, you're in luck, because it's as easy as FELT! That's Fitness, Equipment, Location, and Training!
Getting started
First things first, make sure your dog has the needed fitness level for tackling the open trails. If you have any doubts, talk to your vet before your first hike. If your dog is very young, very old, overweight or brachiocephalic (smooshy face), you might need to start with shorter distances and be extra cautious of extreme temperatures. Just like us, dogs who haven't hiked before or lately should start with shorter, slower hikes to build stamina and avoid overuse injuries.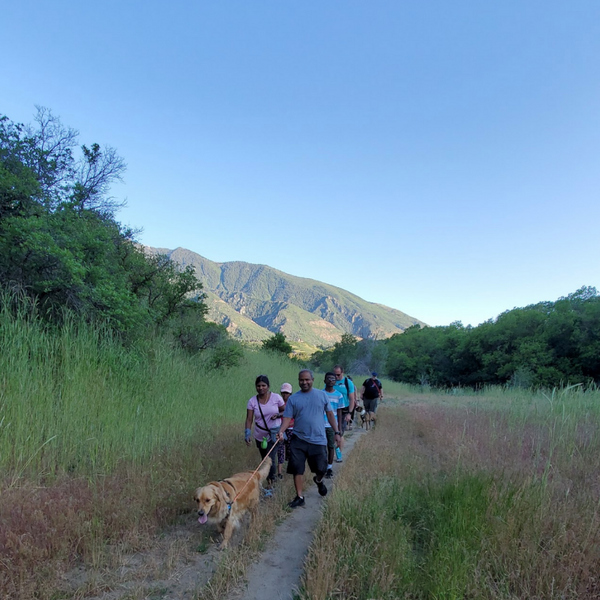 Next, make sure you have the right equipment. A well-fitting harness will take the pressure of your dog's neck and give you something to grab onto if you need to help your dog down a ravine or over a log. A standard six-foot leash can be a great choice, especially on more crowded trails, but many dogs also benefit from a longer leash, such as a 15 or 20 feet long line. This allows your dog more freedom to sniff and explore while also keeping her safe and in accordance with leash laws. You'll also want to bring along plenty of poop bags so that you can do your part to keep our trails safe and clean for other trail users. Finally, make sure you bring plenty of treats! You'll want to reinforce your dog for making good choices while out and about.
Location, location
When it comes to picking the location, there are countless great online resources, such as the AllTrails app. Just remember that sometimes the information is not always perfectly accurate, so be sure to double-check signage when you arrive to be sure you're on the right track. On hot days, trails near water or with generous tree coverage can make for a more enjoyable experience for dogs and humans alike! Along the Wasatch Front, you'll also need to be sure to avoid trails in the watershed, as dogs are prohibited in these areas, and there's a hefty fine for straying into these areas. They will be delineated with "No Dogs" signage at the trailheads.
The right training for hiking
Finally, be sure your dog has the right training to be successful out on the trails with other people and dogs. Some skills that will make the hike more enjoyable for both of you include: walking politely on a leash, greeting (or ignoring) other dogs as needed, crossing natural obstacles such as rocks and logs, coming when called, and more. If your dog doesn't yet have a firm grasp on these skills and you'd like some guidance, The Humane Society of Utah offers a series of Hiking Hounds training classes throughout the summer. Each class is self-contained and will help your dog learn the skills they need to be a successful hiker for years to come.