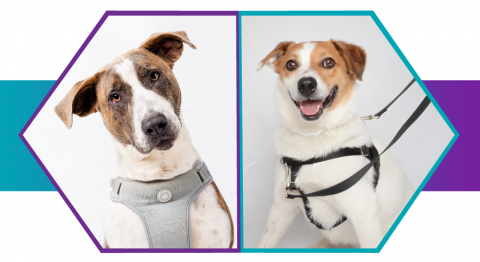 Why Harnesses?
The area around a dog's throat is one of the most vulnerable parts of their body. Research finds that when a dog pulls, or the leash is jerked, the pressure exerted on a dog's neck by a flat collar is enough to risk damage to the dog's neck.
Collars should only be used to display ID tags, not for restraint or control. Harnesses are a better option to control your dog safely.
Slip and prong collars can cause injury to your dog's neck and spine. Even when used correctly, these collars work by causing pain.
Prong collars, shock/E-collars, and choke chains also have long-term adverse behavioral effects, including problems with aggression, anxiety, and fear.
Safer Options
There are comfortable harnesses available that make walking your dog easier. Harnesses with a leash attachment at the dog's chest and back help reduce pulling (like the Freedom No-Pull Harness shown here).
Our staff is happy to show you how to fit and use a new Freedom Harness.
* Please note, some front-clip harnesses restrict movement to keep the dog from pulling, but those are meant for short-term management while you are working on training your dog to walk on a loose leash. A Y-shaped harness such as the Perfect Fit harness shown in the illustration below, is a better solution for long-term use as it allows the dog to move freely.
Training
Once you have the right equipment, your dog can practice walking on a loose leash. If you make it rewarding for your dog to remain near your side, you will notice that your walks go more smoothly.
Learn how to train your dog to walk on a loose leash.
For more tips on loose leash walking, call the Animal Behavior and Training Department at 801-506-2417 or contact us for information.
Read our statement about using positive reinforcement training instead of correction-based methods.