Thank you for your interest in becoming a volunteer member of a team that saves the lives of over 7,000 animals annually!
We depend on our volunteers for many crucial tasks, and it is our goal at the Humane Society of Utah to provide a fulfilling volunteer experience for each volunteer. Volunteer opportunities allow our volunteers to work side-by-side with staff as we work to save the lives of more than 7,000 homeless pets each year.
How old do you have to be to volunteer?
Our volunteer program starts at 12 years old. Volunteers 12-15 must have an adult that joins the volunteer program with them. They will attend all training and shifts together, working side-by-side as a volunteer duo. Volunteers 16 and older can volunteer by themselves. For safety reasons we are not able to make exceptions for volunteer ages, but kids under 12 can help in other ways.
Why are volunteers so important?
Volunteers assist us every day as we work tirelessly to provide for the animals in our care.
They provide direct animal support
Help educate our community
Provide support for our staff
Assist in fundraising efforts
Help complete important projects throughout the shelter
Help showcase our adoptable animals
Assist with events
And much more!
Our volunteers donate more than 20,000 hours each year, allowing us to save more lives.​
What kind of Volunteer Programs do we offer?
We offer volunteer opportunities for a variety of needs, including general volunteer opportunities, event volunteering, court-ordered community service, and civil and corporate group volunteer projects. We even have a reading program for our younger supporters! If you are interested in learning more about joining the Utah Humane Society Volunteer Program, please read our Volunteer Program FAQ's.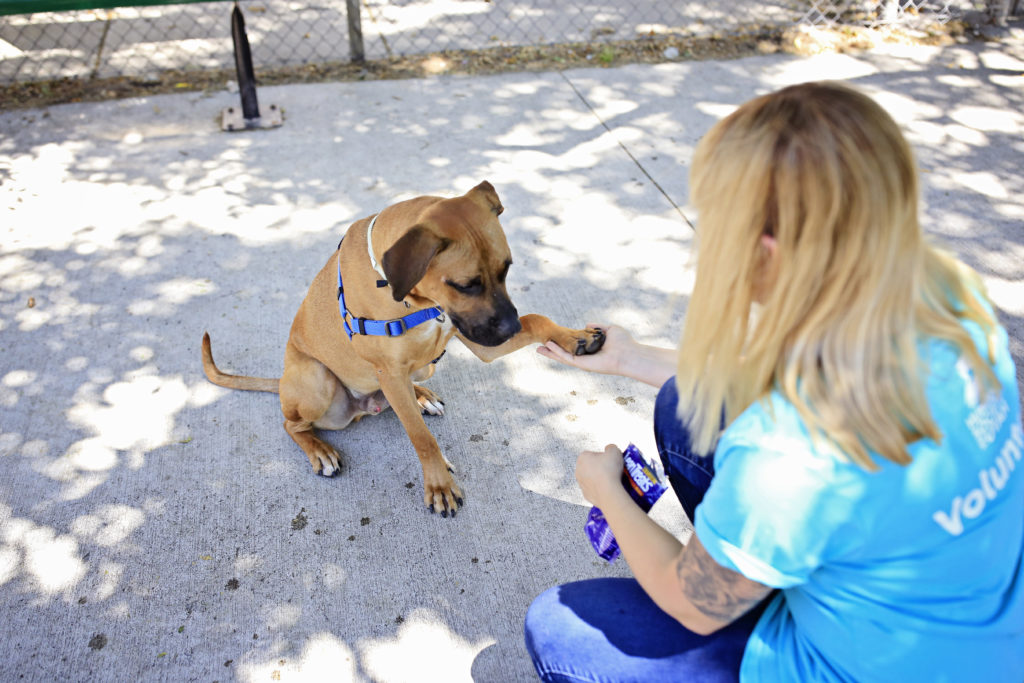 To get started
Go to the Humane Society of Utah Volunteerhub to create your new volunteer account. Once you have created your account, you will have access to sign up to attend a New Volunteer Safety Training and Orientation. Please read this entire page (including Frequently Asked Questions).
---
Court-Ordered Community Service
To get started as a court-ordered community service volunteer at the Humane Society of Utah, you will first need to contact our Volunteer Department. We will email you back with a link to our court-ordered community service information page (please allow 2-3 business days for a response) where you will need to create a volunteer account and schedule to attend one of our bi-monthly court-ordered community service orientations.
Court-Ordered Community Service Requirements:
Interested community service volunteers must attend an orientation and have their charges approved before starting their volunteer work.
The minimum age for court-ordered community service volunteers at Utah Humane is sixteen (16) years old.
You MUST bring your court documents with you to your scheduled orientation. We will not accept charges that are violent, sexual, or animal-related. We will accept drug or theft charges provided they are Class B or C Misdemeanors only.
---