As a responsible pet owner, you can rehome your pet and save them the stress of entering an animal shelter. You know your pet better than anyone, and with these Pet Rehoming Resources, you can find a new loving home for your pet.

We encourage you to look into alternative solutions to keep your pet, if possible, before making the decision to rehome.
Pet Rehoming Websites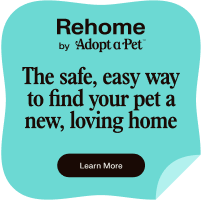 Rehome by Adopt a pet.com and The Petco Foundation
Create a pet profile, receive applications, and screen potential adopters from your home. Adopt-a-Pet.com gives you a personalized adoption agreement that you and your adopter can sign online.
https://rehome.adoptapet.com/
This website, founded by Adopt-a-Pet.com and the Petco Foundation, allows you to rehome your pet with peace of mind. You can create a profile for your pet, review applications of potential adopters, screen and meet adopters, and finalize the adoption with Adopt-a-Pet's personalized adoption agreement. Your pet can go straight to a new home without experiencing the stressful shelter environment.

Home To Home
Home To Home™ is an interactive website created to help shelters and rescues. It provides a positive and proactive method to rehome pets as well as provide support to pet owners in their time of need, when keeping a pet is no longer an option.https://home-home.org/
If these pet rehoming resources aren't suitable for your pet or your situation, and you don't think your pet would thrive in an animal shelter environment, there are local rescue groups that may accept owner surrenders.
Pet Rescue Groups
***WE ARE UNAWARE OF ANY ORGANIZATION THAT ACCEPTS OWNER SURRENDERS WITHOUT PRIOR ARRANGEMENTS***
PLEASE NOTE: These are volunteer-run, foster-based organizations. These volunteers often work full-time, foster rescue pets in their homes, and have families or pets of their own to care for. They volunteer in animal rescue in their spare time.
A New Beginning Animal Rescue
Phone: (801) 916-3924
Email: info@anbrescue.org
Website: www.anbrescue.org
This organization has limited admissions. To make an appointment and to receive a copy of the Surrender Contract and Incoming Pet Profile, email adoptions@anbrescue.org.

Rescue Rovers
Phone: (435) 565-4031
Website: https://www.rescuerovers.org
Dog rescue that will take owner surrenders. You must fill out an owner surrender application online. You should receive a response from the Rescue Rover team within a week. Keep in mind it can take up to a couple weeks for a foster home to be made available for your dog.

Because Animals Matter (Hurricane, UT)
Phone: (435) 773-5209
Website: www.becauseanimalsmatter.com
This organization has limited admissions. BAM may ask you to continue housing your pet until an adoptive home is found. This can reduce the stress of the rehoming experience.

Bulldog Club of Utah Rescue
Phone: 801-750-0587
Website: https://bulldogrescueofutah.org
This organization will only take English or British Bulldogs.

Herding Haven
Website: www.herdinghaven.org/
This organization accepts herding breeds from the public on a case-by-case basis when they have open foster homes.