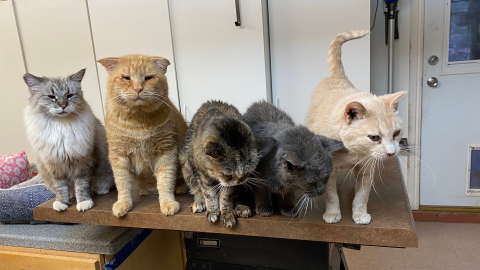 Big Red is an unusual cat with a remarkable story. Not only is he the largest feral cat to come to the Humane Society of Utah's clinic in St. George, but he's also the oldest at four years old.  Typically, feral cats are much slimmer and considered lucky if they live to five due to the spread of fatal diseases. The feral cats treated at our St. George clinic are typically aged one-three. 
But Big Red's surprising story doesn't stop here. He was initially brought to HSU in the Spring of 2021 by Kris Neal, a woman who runs a local rescue called One More Chance. This rescue traps stray and feral cats and brings them to HSU to receive services through our Trap-Neuter-Return (TNR) program. TNR involves fixing, vaccinating, and ear-tipping feral and stray cats, then returning them to their territory. TNR is a humane way to control the community cat population and stop the spread of rabies and fatal viruses, such as distemper.
Kris Neal was worried when she brought Big Red to HSU because he looked unwell, and she thought he might need to be euthanized. "He was badly beaten up and had horribly crusty and goopy eyes," explains Kelsie Watters, manager of our St. George Clinic.
Currently, our St. George clinic only provides spay, neuter, and vaccination services for the community. But after our veterinarian, Dr. Gray diagnosed Big Red with entropion, she decided to conduct entropion repair surgery since he had few resources as a feral cat. Entropion is a condition in which your eyelid turns inward so that your eyelashes and skin rub against the eye surface, causing great irritation and discomfort. Through the surgery, the inward part of the eye is removed so the lid can lay flat.
While at our clinic awaiting surgery, our staff got to know Big Red and fell in love with him. "Normally, we don't get to spend a lot of time with the feral cats we serve. But Big Red hung out in our office for some time. He wasn't very friendly and had the grumpiest-looking cat face ever, but there was something special about him," Kelsie shared.
After his surgery, Kris took Big Red home to care for him while he recovered. The plan was to release him as soon as he healed entirely, but Big Red had plans of his own. Instead of running free, he stuck around Kris's property and stayed inside a workshop on her property to let her know he now preferred living indoors. Curious if she could bond with him, Kris used protective gloves to get him used to touch, and, with time, Big Red eventually let her cuddle him.
"This took us all by surprise," said Kelsie. "We never thought in a million years this cat could ever be an indoor cat or would want to be held by anyone. He was very feral, so we thought he'd be much happier living outdoors."
Kelsie points out that Big Red's story is unique, and so she doesn't want it to encourage people to trap feral cats in hopes of turning them into house pets. "Handling these cats causes great undue stress, and so it's important to recognize the majority of them do prefer living outside. TNR is our goal for these feral animals, and it's working well here."
Feral, stray, and free-roaming cats are the most at-risk animals in U.S. shelters as they are at significant risk of being killed if they enter shelters. As a result, many animal welfare organizations are working together to offer humane solutions for these cats through TNR. In St. George, these cats are protected by a community of passionate and invested caregivers that feed and look after them.
"The people here love the feral cat community, and they get upset if anything happens to them just like if they were their indoor pet," Kelsie explained. "They are providing valuable resources and support not often highlighted, and we are so grateful for all they do to ensure these animals have the best quality of life possible."
Today, Big Red still looks as grumpy as ever, even after his eyelid surgery. But, he's got a softer side to him now, and he's beginning to trust in his human friends, all thanks to our St. George staff and community partners. And thanks to Kris Neil, Big Red is now living a life of indoor luxury with several other cat friends at his side.